The Aether 
is a mod created by Kingbdogz and Jaryt23. It is one of the most popular mods. It features the Aether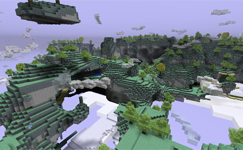 realm, which, guessed by the name, is the opposite of the 
Nether
.
Dependencies
Edit
In order to download the mod, you must have the following mods.
Player Render API (same as Player API)
Version History
Edit
The greek word Αιθήρ, which means "fresh, pure air" or "clear sky", translates to Aether in English.
There is a sequel to this.
Ad blocker interference detected!
Wikia is a free-to-use site that makes money from advertising. We have a modified experience for viewers using ad blockers

Wikia is not accessible if you've made further modifications. Remove the custom ad blocker rule(s) and the page will load as expected.